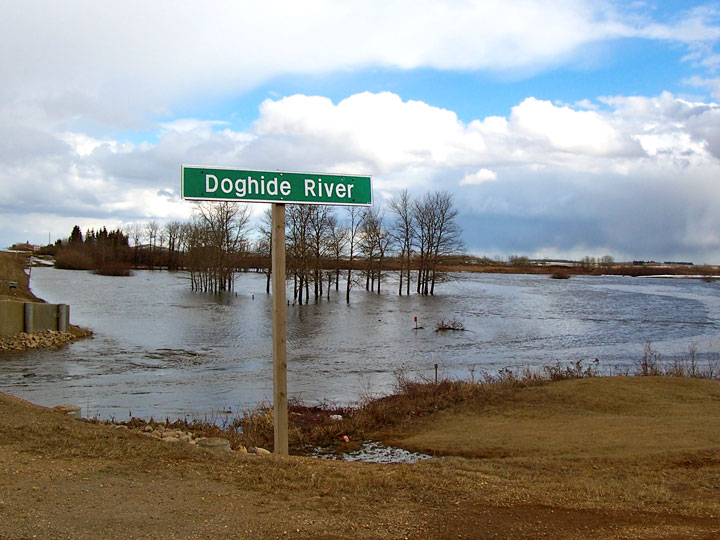 The little Doghide filling up the area around itself at 4:14 this afternoon.
The Doghide runneth over
---
FTLComm - Tisdale - Wednesday, March 31, 2010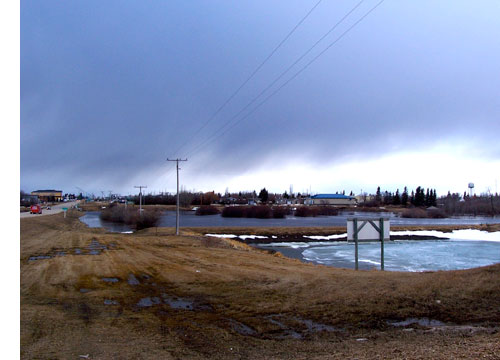 With the river only starting to flow yesterday it really seemed that it was going move along peacefully but there was a wind and warm temperatures all night and today the peaceful Doghide river is at flood stage. Fortunately, since it can do this trick as many as five times in a year the flooding will spill out into the undeveloped areas and low lands along the stream. It certainly was a dramatic scene at the bridge on highway #3 at 4:00 this afternoon.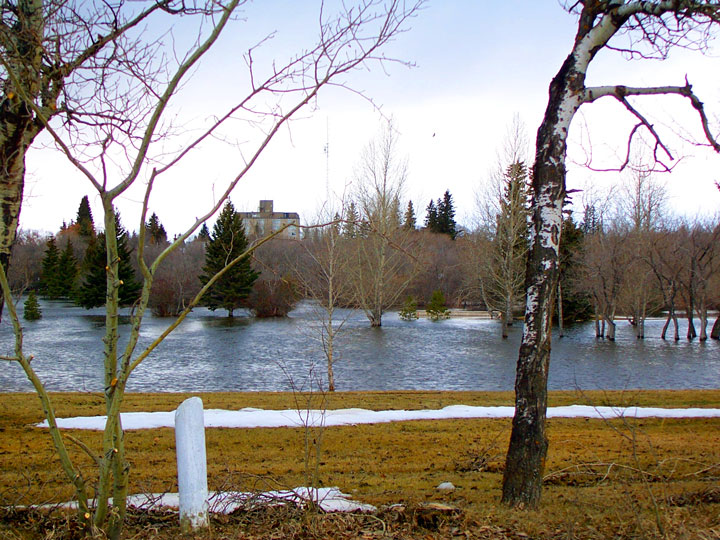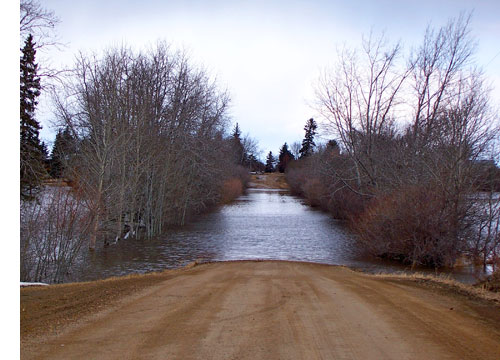 This is the situation late afternoon at the Riverside Golf course with the road blocked on the east and north sides of the course. As these pictures were being taken there was a light shower though that contributes little to the amount of water in the river it does speed up the transistion of snow and ice to water as there is still snow in most fields.

In the image below of the golf course from the west side you can see there is still lots of snow on the unflooded fairways.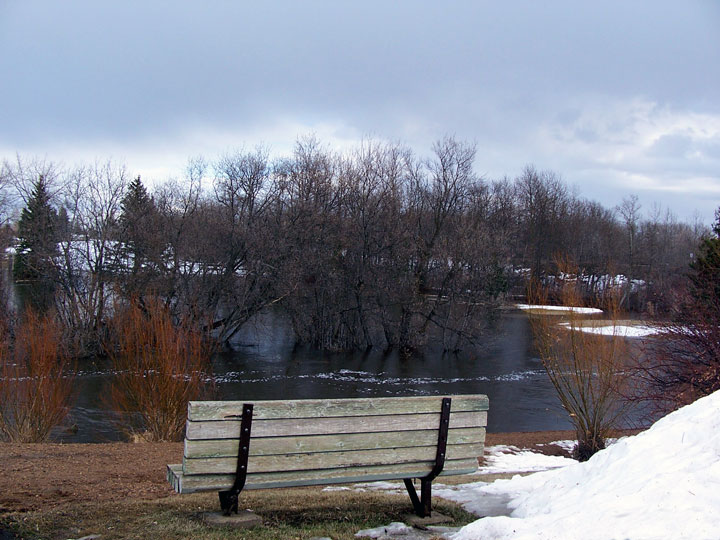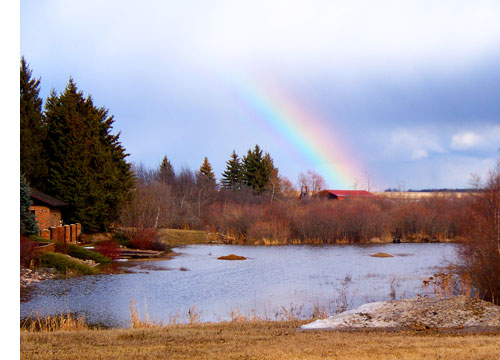 Even after living here for fifteen years it is hard to get used to the idea of that river rising so quickly and flooding the areas along its banks right through the east side of the town.

The scene below is the same section of the river that was the top picture on yesterday's story. This is just east of the old bridge on the old highway on the north side of Tisdale. Not only has the river widened out considerably but the rate of flow is substantial.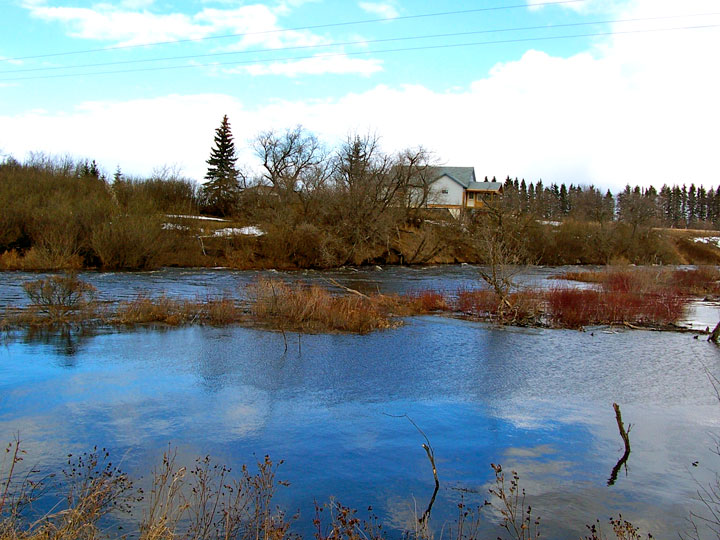 These pictures are taken at the bridge on highway #35 just north of Tisdale as the flow of water has to make its way north in the tortuous route it takes to join the Carrot River. In most cases it will be held within the valley along the river.

Temperatures will remain well above freezing so the whole process should move right along now quickly draining the countryside to the South of Tisdale. With the run off the fields can dry up quickly and that will make the farmers even more cheerful.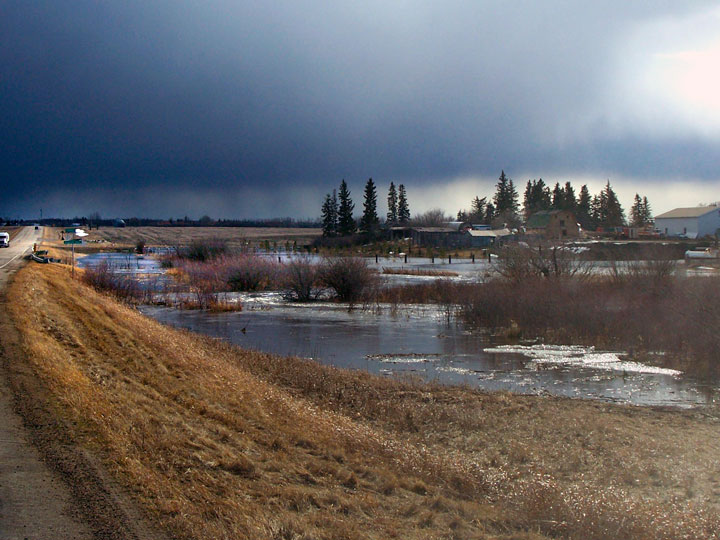 ---
Return to Ensign
This page is a story posted on
Ensign,
a daily web site offering a variety of material from scenic images, political commentary, information and news. This publication is the work of
Faster Than Light Communications
. If you would like to comment on this story or you wish to contact the editor of these sites please send us
email.
Editor : Timothy W. Shire
Faster Than Light Communication
Box 1776, Tisdale, Saskatchewan, Canada, S0E 1T0
306 873 2004