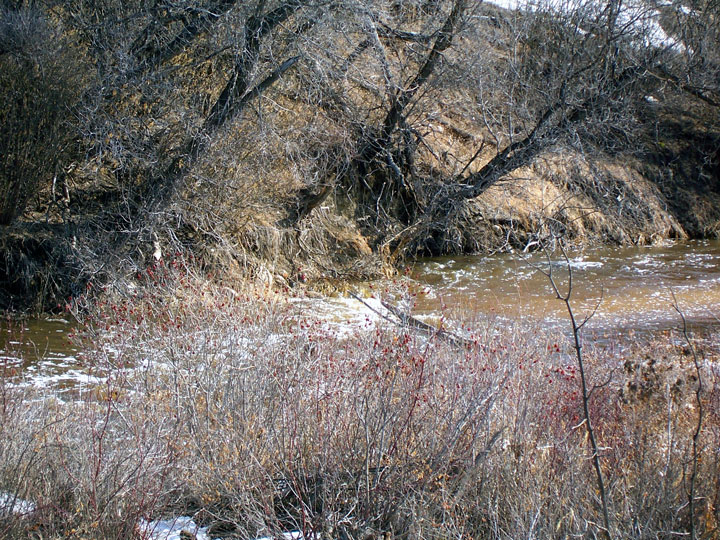 East of the old highway bridge north of Tisdale at 10:47 this morning
The Doghide starts to flow
---
FTLComm - Tisdale - Tuesday, March 30, 2010
It was March 4th when the snow began to melt and a very gradual run off began. Since then below freezing nights and many days right at freezing has kept the whole process extremely gradual. We reached the point yesterday where there was more water than snow in the fields.

This picture (right) is the Boxall field just on the South side of town and as you can see the water is both laying in the ditch but also in the field itself.

On the east side of the road by Riverside Golf Course (below) at 10:42 this morning there was a substantial amount of water coming off the gentle hillside to the east.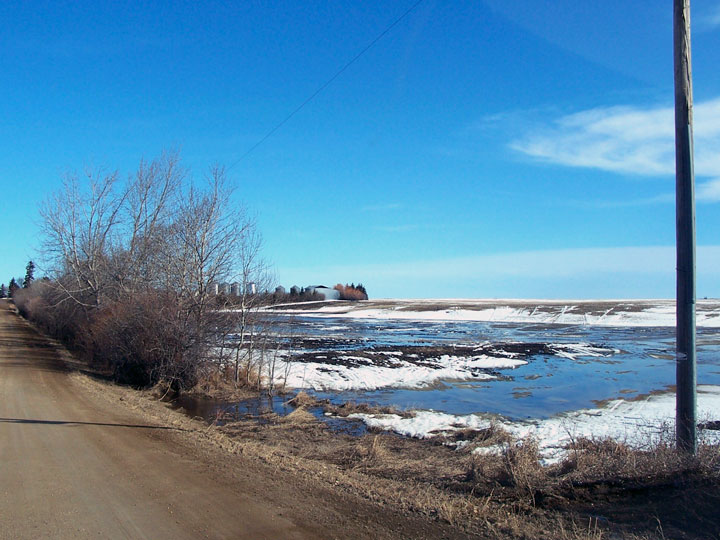 On the Riverside Golf Course itself (right) we can see there is still a lot of snow laying on the fairways but there is also water, moving water and the pond at the north end has swollen considerably.

At this point (before 11:00 this morning) the river itself was flowing nicely and so far staying well within its banks. Howver, there is a lot of water to be moved and it is expected that late tomorrow it will get out of its banks and flood the usual low lying areas along the river area like the golf course and the meandering flood area at the bridge on highway 35 on the north side of town where it was already fanning out a little this morning.
---
Return to Ensign
This page is a story posted on
Ensign,
a daily web site offering a variety of material from scenic images, political commentary, information and news. This publication is the work of
Faster Than Light Communications
. If you would like to comment on this story or you wish to contact the editor of these sites please send us
email.
Editor : Timothy W. Shire
Faster Than Light Communication
Box 1776, Tisdale, Saskatchewan, Canada, S0E 1T0
306 873 2004