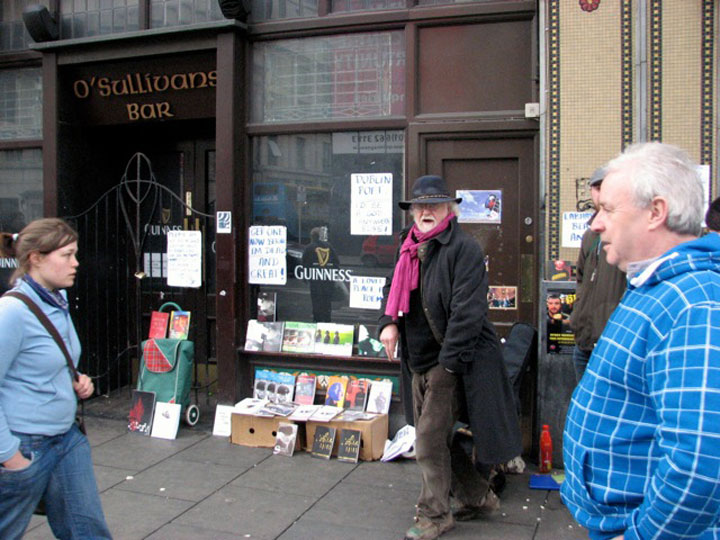 The Book of Kells and Trinity
---
Dublin, Ireland - Wednesday, March 31, 2010 by: Michael Townsend
On my way to Trinity College I was verbally attacked. I innocently took a picture of a street poet selling his wears and he took exception to my camera. "Do you think I am a f....ing animal at a zoo you asshole! Get the f..k out of here with that thing!" (I am without ability to incorporate the Irish brogue here but it sounded great.) But I had no idea what was happening. Somehow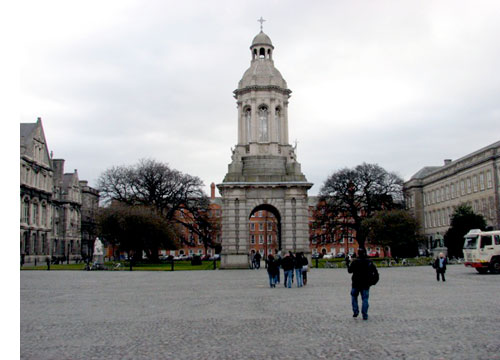 I got this picture, (guy in red scarf). My attempt to apologize fell on deaf ears so I moved on down the street toward the College. The guy standing to his left, partly hidden by the man in the blue jacket, followed and caught up to me to try and explain the encounter. He described the man as a once famous Dublin poet, experiencing hard times, in search of his mind. What attracted me in the first place was his little sign reading, " Dublin Poet, I'd be famous if I were anywhere else." I suggested he find somewhere else and be famous. I thought we might have had something in common with our almost white moustache and goatee. He didn't see it. Just moving on seemed the right thing to do.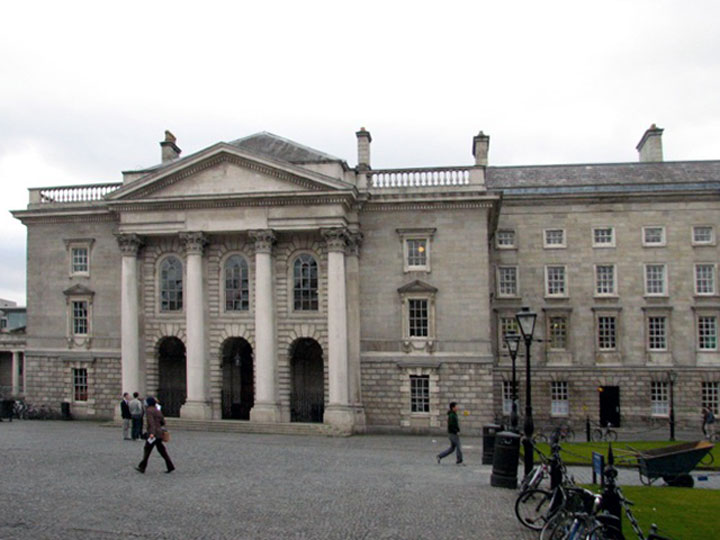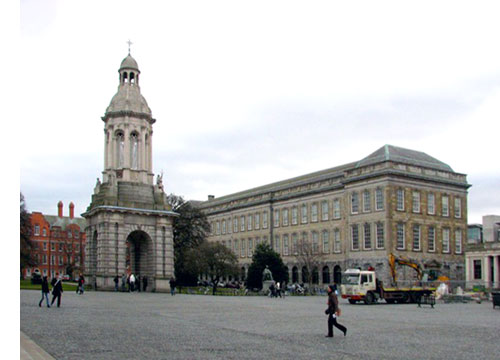 But then there was Trinity College. Stepping onto the the grounds seemed important somehow. Was it the sense of history I got from the buildings? Possibly. But walking through the gates, escaping from the turmoil of the Dublin streets, I was on a mission; The Book of Kells.

The aged trees on the grounds, the architecture, and that mysterious Ball, set the stage for what was to come.

Sadly though, I was not able to take any pictures of the book itself, or anywhere else inside the library. But it was a grand library, one of the most magnificent I have been in!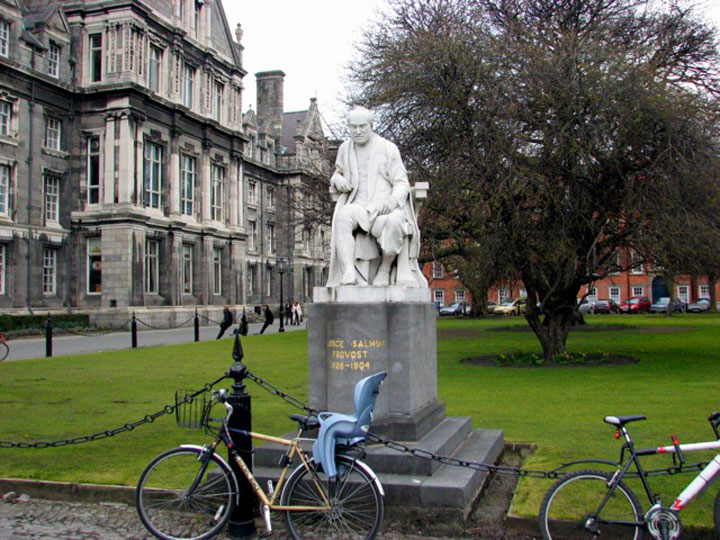 As a student at the
University of Saskatchewan
, I would spend hours sitting in the library among the stacks and be lost in the feel and odours of the books. In the library at Trinity, just to the left
George Salmon
(above), I went missing once again. And then to be exposed to a 1200 year old book; I was fearful of disappearing entirely. But after an hour or two, I returned and was able to make my way to a dimly lit exit. The history of the
Book of Kells
, the odour of the books in the stacks of the main library, would blur my vision for hours while wandering the streets of
Dublin
. The fog would lift only after a
Guinness
or two.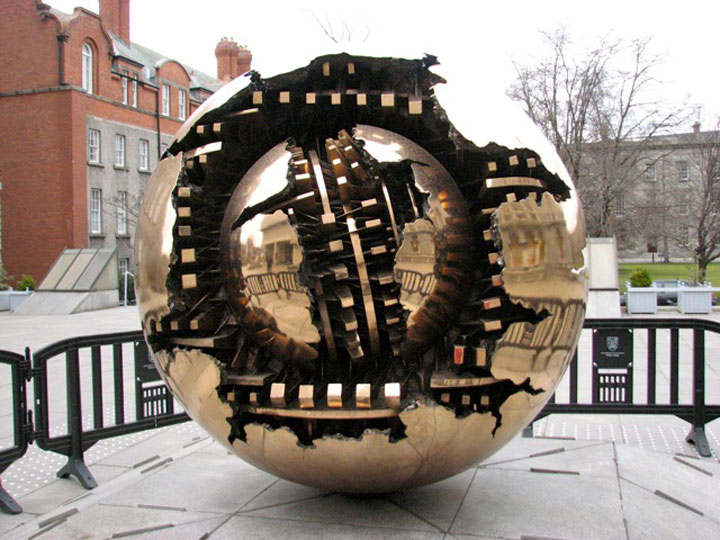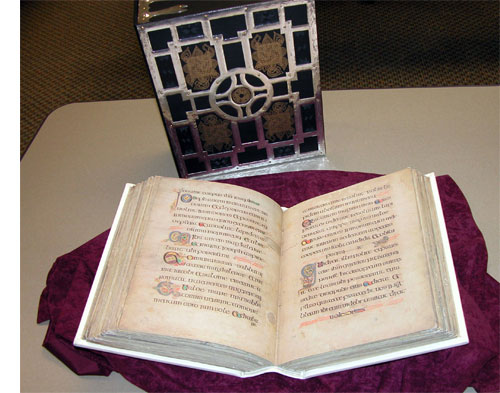 To learn more about The Book of Kells, refer to Wikipedia for extensive information.
Editor's note: The Book of Kells which is the first four books of the New Testament hand illuminated in latin is not photographable. A few careful facsimile editions have been made. The picture on the right is a 1990 product made by a Switzerland company and reproduced in only 1480 copies.
---
Return to Ensign
This page is a story posted on Ensign, a daily web site offering a variety of material from scenic images, political commentary, information and news. This publication is the work of Faster Than Light Communications . If you would like to comment on this story or you wish to contact the editor of these sites please send us email.
Editor : Timothy W. Shire
Faster Than Light Communication
Box 1776, Tisdale, Saskatchewan, Canada, S0E 1T0
306 873 2004