Pioneer Grain was the original company that built the inland terminal at the old abandoned site of what once was the community of Murphy's Siding, mid way between Eldersley and Crooked River. Since the late nineties there has been considerable shifting in the make up of Canada's grain handling industry. UGG was merged into Agricore and Agricore consumed by the private corporation that replaced the Saskatchewan Wheat Pool, Viterra. Pioneer had been involved in these changes as it was absorbed into the Winnipeg investment company of James Richardson & Sons.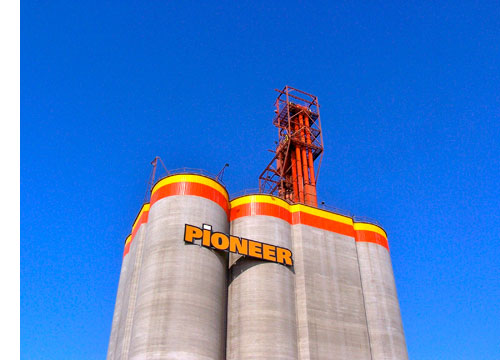 Richardsons had been the defacto stock exchange in the 1960s in Regina and had grown steadily moving more and more into the grain handling and processing induatry. Now almost all that remains of Pioneer is the name as the company is Richardson International but you will notice that their Internet domain name is JRI (James Richardson International).
Of the terminals in the area the Richardson Pioneer and Cargill appear to be similar in size dwarfed by Viterra, Parrish & Heimbecker and a little smaller than Louis Dreyfus.
Two job openings are at this facility right now. One for a "sales agronomist" and the other for an "area marketing representative" both positions require university training and applications are to be in by March 26th.