Driving around during seeding time or during harvest one of the most obvious problems to the farmer is actually getting the seed in the ground or getting the harvest off the field. Instead of doing that so much time is spend moving seed and associated products into the seeding equipment often requiring a couple of trucks, an auger and the seeding equipment. Similarly, in the fall the harvest sputters along as the combine has to get the product into a truck or grain tank and this can consume a lot of daylight time.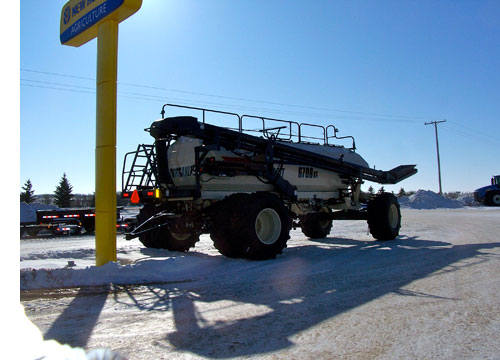 I noticed this huge machine (6700st) at John Bob Farm Equipment here in Tisdale and was curious as to what it was. It is so big it has hand rails on the top and a back porch and includes a large grain conveyor system folded up on one side of the system. All in all it is big. Actually hauls 700 bushel of grain. The manufacturer, Bourgault Industries of St. Brieux has four tanks that can be cross fed and proportioned so that with a typical seeding mixture of grain and chemicals one fill up and with this in tow the farmer can seed a whole quarter section at a time.
Clearly, all that equipment in a field and the filling process takes up a lot of time and time is one of the most critical things in the seeding process. Only a short window of time is available to get the crop in the ground to maximize the growing days and take advantage of good weather. This big machine goes a long way in making the seeding process more efficient.
The Bourgault 6700ST Air Seeder was awarded for outstanding innovation in 2007 by the American Society of Agricultural and Biological Engineers. You might want to check out the specification of the various versions of the 6000 series of grain seeders.